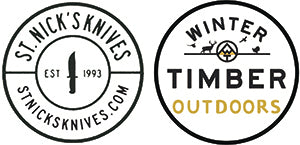 St. Nick's Knives and Winter Timber Outdoors Join Forces
St. Nick's Knives (St. Nick's Knife Factory) originally came to be almost 30 years ago when Kenny Winter Sr. opened up a small knife store in the loft of a building in Orange Beach, AL. Fast forward to 2007 and Kenny Sr. opened a store in Huntsville, AL. In 2014, Kenny Winter Jr. purchased the Huntsville, AL location from his father and opened the original Athens, AL location and eventually the Florence, AL location in 2017. Since 2014, Kenny Jr. has always wanted St. Nick's Knives to be more than just a knife store but rather an outdoors store with a focus on not only hunting gear, ammo, and firearms, but a strong focus and knowledge base on knives, something that the majority of outdoors stores lack.
In late 2019, Kenny Jr. purchased the building that now houses our Athens, AL store and quickly began renovations. Even through the trials and tribulations of the COVID-19 pandemic and all of the other various setbacks that come along with renovating, St. Nick's Knives and the newly created Winter Timber Outdoors eagerly opened their doors in April 2020.
Winter Timber Outdoors is Athens, AL's largest outdoor/firearm store with hundreds of rifles, shotguns, and pistols as well as millions of rounds of ammo. We carry brands such as Glock, SIG Sauer, CZ-USA, Bergara, Tikka, Weatherby, Ruger, Savage, LWRC, Browning, Kimber, Dan Wesson, FN-Herstal, Taurus and many more. We also carry accessories from some of the best in the industry such as Sitka Gear, OnRunning Shoes, Vortex Optics, Bushnell Optics, Leupold Optics, Hawke Optics, SIG Sauer Optics, Primos, Dead Down Wind, Hunter Specialties, and many more. 
St. Nick's Knives has and will continue to carry all of the amazing brands that we do and we hope to add more brands as we can. St. Nick's Knives and Winter Timber Outdoors coming together as one will allow us to offer more great products to our amazing customers all in one convenient place. As one of our employees has said before, "If you can shoot it or stab it we got it". That mantra has carried with us as we continue to not only serve the North Alabama community in our brick and mortar stores but also our amazing online community that can be found around the globe. We have just began an expansion to our Athens, AL brick and mortar store to be able to carry even more amazing products. This translates to a lot more cool stuff being available to you the customer. 
As of this post, Sitka Gear and OnRunning Shoes can be found here on this www.stnicksknives.com website and we hope to be able to add more accessories as time progresses. Firearms and ammo will be available at some point on a www.wintertimberoutdoors.com (This URL will currently take you back to the www.stnicksknives.com website) website but currently they are only available in-person at our Athens, AL store. 
As always, we are here to help and answer any questions that we can. You can contact any of our three stores via phone, you can contact us by email at hello@stnicksknives.com, or you can contact us through our Facebook, Instagram, or Twitter accounts.
Thank you for everyone's support and we look forward to continuing to grow and are excited to see what the future holds!